Now that the newest version of the GoPro Hero action camera is out, here are some of the important and notable differences between the GoPro Hero 9 vs GoPro Hero 10 Black.
Some product links in this post are affiliate links, and VidProMom will be compensated when you make a purchase by clicking our links. Read my disclosure policy here.
GoPro Hero 9 vs Hero 10 Black
Recently, GoPro has announced the new action cam model that is called Hero 10 Black. Although its design comes relatively close to Hero 9 which came out before it, the new camera still comes with its very own set of new features and capabilities. GoPro Hero 10 Black has a GP2 processor which is actually the first new processor to come out since the Hero 6 processor, which was introduced way back in 2017.
With this new processor introduced, it allows higher frame rates in one specific area, more powerful performance, better, and more advanced processing, as well as better low light performance. Needless to say, the new model itself is really great, but for those with Hero 9, is it worth it to upgrade for Hero 10? Let's figure the details and what separates the two cameras, in terms of design, features, usability, video and still quality, and price below.
Hero 9 vs Hero 10 Specs
Although Hero 10 is an upgrade for Hero 9, in terms of the basic specs, most of them remain unchanged. Here are the specs comparison from both models:
Hero10 10 Weight: 153g
Hero9 Weight: 158g
Hero10 Chip: GP2
Hero9 Chip: GP1
Hero10 Image Sensor: 23 MP CMOS (1 inch)
Hero9 Image Sensor: 20 MP CMOS (1 inch)
Those are the only specs with differences. Meanwhile, Hero 9 vs Hero 10 in terms of other specs such as Dimensions, Status Screen, and everything else remains the same.
Dimensions: 71.0(W) x 55.0(H) x 33.6 (D)
Status Screen: Yes
Front LCD Display: color display; live preview
Touch Display: 2.27 inch
USB Port: USB-C
Microphones: 3 (stereo)
Output Format: MP4 (H.264/HEVC): WAV; JPG/ RAW
Water Proof: 33 ft without protections
Battery: 1720mAh (removable)
Replaceable Lens: Yes
Connectivity: Wifi And Bluetooth
GPS: Yes
One of the biggest advantages of the Hero 9 vs Hero 10 GP processor, is that HERO 10's GP2 can essentially shoot at twice the frame rate. A 5.3k video of HERO 9 can be recorded for up to 30fps, meaning HERO 10 can shoot that resolution for 60fps. HERO 9's 4k video recorded up to 60fps can be recorded by HERO 10 for 120fps which in itself, is very useful. In addition, with the GP2 processor also comes the improved low light performance making noise levels a lot lower on the Hero 10.
GoPro introduced what is called the "3D noise reduction", but since HERO 10 is not a 3D camera, time instead of depth may be the added dimension here. By utilizing the greater cross-referencing of frames, the final footage can be improved.
Hero 9 vs Hero 10 Design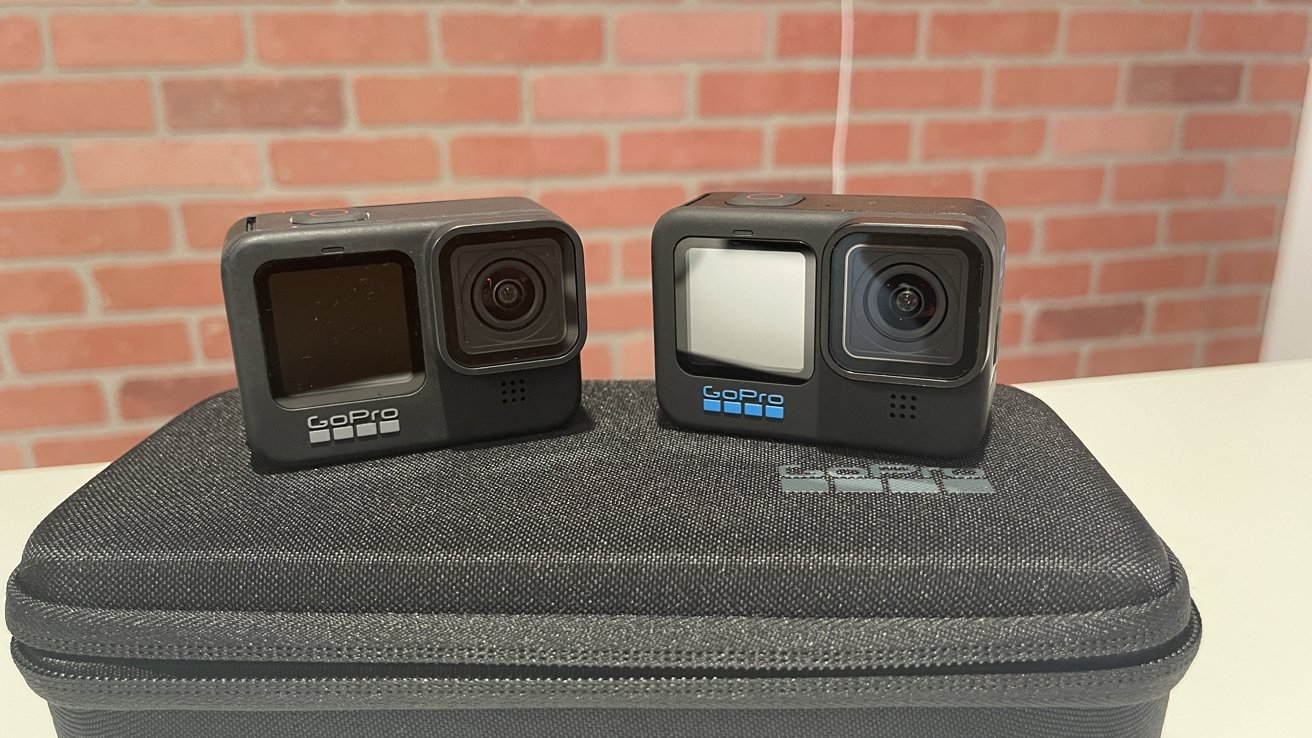 HERO 9 actually had the first major design change in the past number of years, and so it is unlikely for GoPro to do any major design changes soon. The camera got bigger with the addition of a color display to the front for the 2020 model, with the color display to be used for framing. There was also the addition of a new removable lens cover so that lens can be easily swapped out.
For the new HERO 10 however, this lens cover was redesigned to become more durable. Doing so makes it more damage-resistant than the HERO 9's lens covers. Water will also glide off easier with HERO 10's lens cover and ghosting is decreased when capturing with it.
Although both designs are just about similar, there are some minor visual differences between each design. HERO 10's GoPro and HERO logos are colored light blue instead of HERO 9's white. The color of HERO 10's outer frame is also darker and quite rougher compared to HERO 9. The newer model is also 5 grams lighter than the former. Other than those, Hero 9 vs Hero 10 are essentially the same.
Hero 9 vs Hero 10 Features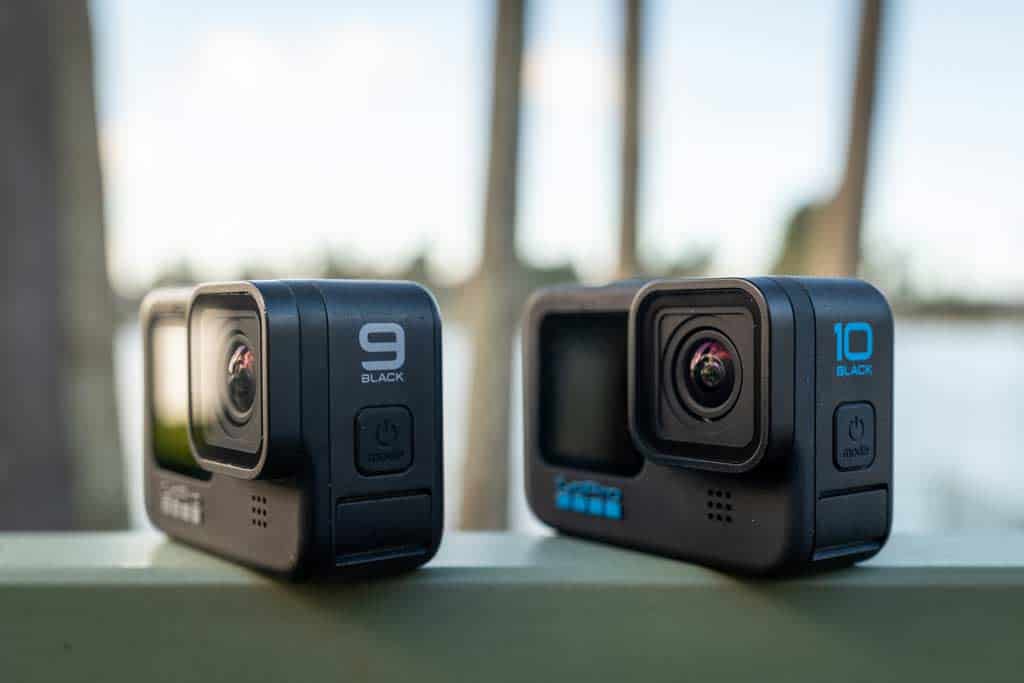 Because of HERO 10's GP2 processor, it allowed a few improvements. GoPro, again, introduced a more impressive, improved algorithm/electronic-based stabilisation for smoother footage, and that is HyperSmooth 4.0. Shooting 5.3K/30, 4K/60, and 2.7K/120 footages with the "high-performance setting" can benefit from HyperSmooth 4.0. HyperSmooth 3.0 of Hero 9 vs Hero 10 HyperSmooth 4.0 is undoubtedly inferior.
In addition, there is also an amped-up horizon leveling feature. This feature can tolerate being tilted up to 45-degrees, which is completely different from HERO 9 that can only tolerate up to 27-degrees. Some more extra features added are auto-upload of video and stills while charging, faster wireless uploads, and a new wired upload function. Although they are all small additions, it is still better to have than not.
With HERO 10, you may shoot the smoothest possible 132º wide-angle video in a style of conferencing and tutoria fir live streams. There is also the front-facing preview mentioned which is perfect for framing. It is clear that both model action cameras can be used for YouTube, Twitch, Facebook Profiles and Facebook Pages 1080p live streams.
Pricing and Accesories
The GoPro official website has the prices for both GoPro Models. They also have a 1-year GoPro Subscription which can save you money for the initial outlay. This subscription can be applied to both cameras. Naturally, with Hero 9 vs Hero 10, the former, older model will be cheaper.
HERO 10 Black With Subscription: $399.98; Without: $499.99
HERO 10 Black + Accessories With Subscription: $449.98; Without: 549.99
HERO 9 Black With Subscription: $349.98; Without: $399.99
HERO 10 Black Accessories comes along with:
Magnetic Swivel Clip ($17.49)
Spare Rechargeable Battery ($15.99)
Shorty ($27.99)
32GB SD card ($24.99)
Camera case ($34.99)
In a Nutshell…
Although it isn't very obvious, HERO 10 clearly has a lot more merit compared to the former HERO 9 black. HERO 10 black comes with faster frame rates and allows higher resolution. You can undoubtedly do more with HERO 10 especially with the enhanced hydrophobic lens and improved low light performance.
HERO 9 is still a great action camera and should still be considered. Another thing that comes together with the release of a new model is that prices for the former will naturally drop. Since HERO 10 costs more than the former model, HERO 9 could be a sensible option.
Related: GoPro Hero 10 Black Overview