With all the great action cameras that you can find in the market, here are some of the best action cameras under $400 and their complete features!
Some product links in this post are affiliate links, and VidProMom will be compensated when you make a purchase by clicking our links. Read my disclosure policy here.
Best Action Cameras Under $400
When looking for the best action camera, who would not want the complete package? Great specs, great features, and a friendly price! One of the first things that come to people's minds when it comes to this is GoPro. Well, it's true, and this list would be incomplete without a GoPro camera. However, there are also some notable amazing action cameras that you can find in the market. With that, here are the top 3 best action cameras under $400!
1. GoPro Hero 9 Black
Although not the latest GoPro Hero model, the Hero 9 Black was released in 2020 by GoPro. Despite having the same shape and size, it is still indeed a big upgrade over its predecessor GoPro Hero 8 in terms of specifications. It has better image stabilization than the Hero 8, and it has a front-facing colored LCD screen to make it easier for you to create selfie-like videos!
Specifications
Here are some of the best specifications of GoPro Hero 9:
5K Video Resolution with a maximum 30 FPS
23.6 Megapixels Camera Sensor
20MP Photo Quality + 14.7MP Video Stills
Improved image stabilization
Larger rear display than Hero 8
Front LCD Display
30% Larger Battery Capacity than Hero 8
Great Low Temperature Performance
Of course, one of the things that grabs the attention of people is the staggering 5K video resolution, but it gets even better because if you need more than 30 FPS, you can lower the resolution a bit to 4K at 60 FPS, or even 1080P with a very smooth 240 FPS! It is perfect for people who are also planning to create slow-motion shots without making the video resolution suffer too much.
For the battery, this is the new feature that GoPro highlighted the most. The GoPro Hero 9 has 30% more battery life than the GoPro Hero 8. However, the only disadvantage to this great feature is that the battery size has also increased. This means that you cannot use your batteries from your old GoPro Hero models to the Hero 9 model.
New Features
Hindsight – This features allow you to set your GoPro on record and save the last 15 or 30 seconds after you press the record button. This can be a pretty good feature for those who want shorter clips to avoid eating up too much memory and for those who only want the last few seconds of their clip.
Scheduled Capture – This is pretty much self-explanatory. As the name suggest, this feature lets the user to schedule a recording for up to A WHOLE DAY (24 hours) in advance. One of the best use for this feature is when you want to record something like the sunrise, without getting out of the bed. It also has a duration capture which lets you decide the duration of how long it will record.
TimeWarp 3.0 – It is an improved version of the past feature, and others call it HyperLapse. With this feature, you can create a timelapse. Then, lesseng the playback speed, include audio, and even apply slow-motion.
Accessories and Price
You might be wondering what accessories can you use if you buy the GoPro Hero 9. Well, most of the accessories that you use for your previous GoPro camera are also compatible with this model like GoPro mount, cases, and so on. However, there is one noteworthy accessory that you might want to check out when you get your hands on the Hero 9 Black. It's called the "Max Lens Mod". This accessory gives you wider angles on your GoPro of up to 155 degrees for much better cinematic shots!
Lastly, of course, is the price. You can get one of the best action cameras right now in GoPro Hero 9 Black for just $350! Though the GoPro Hero 8 and 7 might still be available for a lower price, the Hero 9 is a huge upgrade over the two GoPro models.
Related: 5 Accessories Every GoPro Newbie Needs
2. DJI Osmo Action
Though it is not as flashy and as good as GoPro, the DJI Osmo Action also offers the great features and specifications that you want, like the 4K video quality and front-facing LCD! That makes it one of the best action cameras in the market for a reasonable price! Here's a more in-depth look at this action camera.
Specifications
65x32x35mm and 124g weight
Dual-display (rear & front display)
4K Video of up to 60 FPS
Can operate in environments with temperatures of as low as -10°C
1300 mAh battery capacity
Can last up to 2 hours of video recording at 1080P 30 FPS with basic shooting settings
90 minutes of charging time
WiFi & Bluetooth support
Those are just some of the important specifications for the DJI Osmo Action, but if you want to check out the advanced specifications, you can check them here. Like the GoPro Hero 9, this action camera can also give you a frame rate as high as 240 FPS when recording at 1080P or 720P!
Features
Other than the basic features needed from an action camera, below are some of the great features that you can enjoy once you have the DJI Osmo Action camera!
Advanced image stabilization system called RockSteady
Several creative shooting options (Slow motion, Custom exposure, Timelapse, and Timed shooting mode)
Fast and efficient UI system
Quick switch button for easily changing settings and shooting modes
Voice-controlled options
Accessories and Price
Another great thing about the DJI Osmo Action is that you can also have many different fun accessories that you can use like with a GoPro. You can have the head mount strap, extension rod, filter kit, and many more! The DJI Osmo Action currently costs $200 for the basic package, which is a much cheaper alternative for those who have a limited budget. That's what makes this one of the best action cameras right now.
3. Insta360 ONE R 4K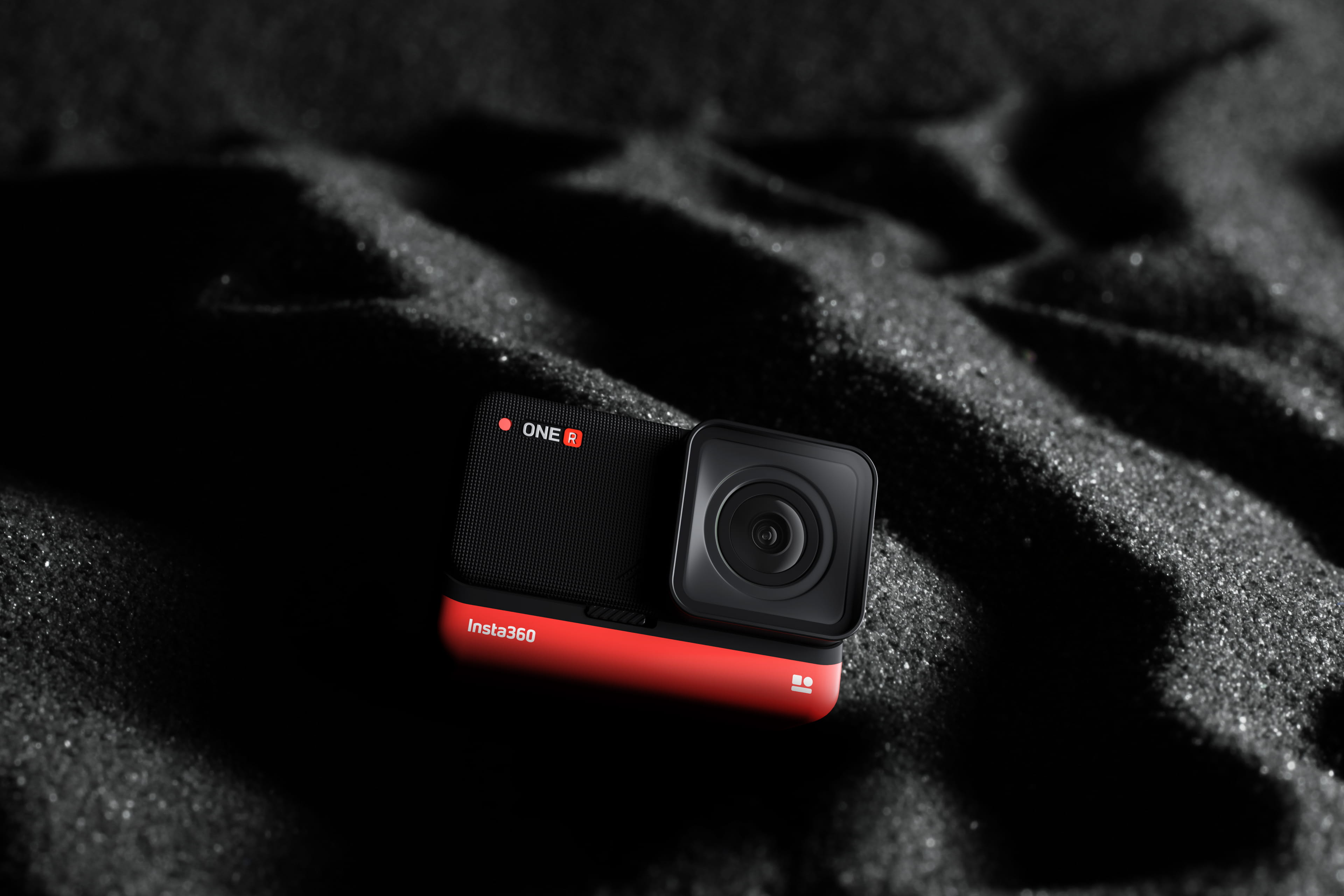 The last item that made our list of the best action cameras under $400 is the Insta360 ONE R 4K Edition. It is also a quite cheaper alternative to the GoPro Hero 9, and it has great features and specifications. It is a modular action camera, which means that its parts are divided into sections that you can remove and attach like a lego. Cool, right? Wait until you check out its amazing specs and features below!
Specifications
4K Wide-Angle Video Resolution @ 60 FPS
Up to 200 FPS for 1080P Shooting Quality
72x48x32mm body size
1190 mAh battery capacity that can run for 70 minutes of shooting at 4K/60FPS quality
Bluetooth and 5G WiFi supported
65-minute estimated charging time
Resistant to low-temperature environments as low as -4°C
One of the main differences between this action camera with the two that were mentioned earlier is that this does not have dual display. However, since it is a modular action camera, you can easily assemble the touchscreen display in either the rear or front of the body. Oh, and have I told you? The base of the camera is the battery which holds the two other modules in place!
Key Features
Multiple video shooting modes (standard, HDR, timelapse, and timeshift mode)
Multiple photo shooting modes (standard, HDR, burst, inteval photos, Night Shot, PureShot
Basic stabilization mode and Pro stabilization mode
Has an iOS and Android companion application
Supports remote connection from Apple Watch or the Insta360 GPS Smart Remote via Bluetooth
Voice Control Commands
ONE R Stats dashboard
Among all those key features mentioned, one of the best things about this action camera is that it also offers easy access through the companion application and also the stats dashboard that lets you track your speed, altitude, and route as an overlay to the video.
Accessories and Price
There are also many different accessories that you can use for this action camera like the body mount strap, grip, etc. However, you can also check out their official site here to see some of their cooler additional products that you might want to have. You can get one of the best action cameras in Insta360 One R 4K Edition here for $310.
Which Is The Best Action Camera?
Honestly, it is very hard to choose among those 3 mentioned above. Of course, there are still other options that you can find. But there is no denying that all of the cameras mentioned in our list are fantastic! Now that you already have an in-depth idea, it is up to you to decide which among these amazing action cameras are the best purchase for your budget. You can also further research for much more advanced specifications and features if ever you are a diehard action camera enthusiast.
Related: How to Use GoPro for Your Business